Notable Neighborhoods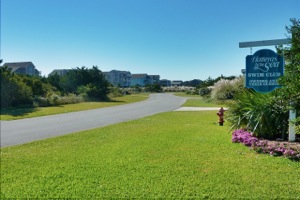 Hatteras by the Sea
A luxury oceanfront community in Hatteras Village
Hatteras by the Sea boasts luxury homes on large lots bordered by pristine beaches and nature filled salt marshes. Originally intended as a retirement community, the neighborhood is comprised of private residences and seasonally rented homes. Large homes in Hatteras by the Sea with private pools and 8 or 9 bedrooms will command impressive rental rates that can exceed $8,000 per week during the peak tourism season. Association amenities include a neighborhood pool with clubhouse, an elevated boardwalk that extends into the nature preserve and beach access.
Homes in Hatteras by the Sea are highly sought after but sparsely offered for sale. If you want to be among the first to learn of a new offering, just give me a call and ask me to send you instant notifications of activity in this luxury community.
Directions to Hatteras by the Sea from Frisco and points North:
Take Highway 12 South into Hatteras Village. Turn left onto Eagle Pass Road just before the Hatterasman. Turn left onto Flambeau Road just past Outer Beaches Realty. At the oceanfront, turn right onto Lighthouse Road.
Visit www.hatterasbythesea.com for more information regarding Covenants, Bylaws and the Architectural Review Committee.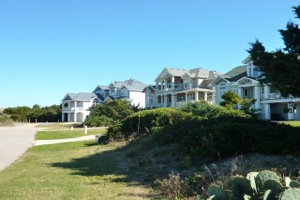 Hatteras Landing
From the ocean to the sound, at the southern tip of Hatteras Island.
Water frontage and views abound in Hatteras Landing. A planned community intermingled with shopping, restaurants and a full service marina, Hatteras Landing is ideally suited for seasonal rentals. A 1500' boardwalk through the salt march and over creeks connects the sound-side homes to the shopping area and marina. If you are looking for an up-scale community-whether you come to the Outer Banks for world-class Gulf Stream Fishing, beach walking, kayaking, or just the serenity of extensive water views – Hatteras Landing is certainly worth considering.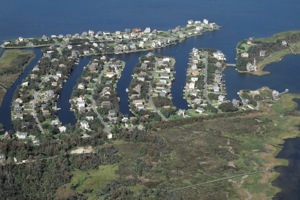 Brigand's Bay
Canal Front Living on the Sound Side of Frisco
Created in the early 1960's and located along the Pamlico Sound, Brigand's Bay is a water- sports paradise. Most of the 300+ properties are either canal front or sound front attracting boat owners, windsurfers, kayakers or those seeking glorious sunsets. If you visit Brigand's Bay during any time of the year, you will undoubtedly encounter folks walking or bicycling. While there are several homes available for seasonal vacation rentals in Brigand's Bay, many of the homes are occupied by year round or part-year residents.